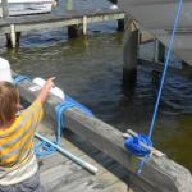 Joined

Nov 19, 2008
Messages

260
Ok - I need input. I'm driving myself crazy!
I'm getting married August 2 .. so it's a summer wedding. Our original colors were blue and green .. our flowers are going to be pale green hydrangeas with a few cream colored ones, mini-poms (there almost a limeish green) and sahara roses to tie in the light gold of my dress. This all sounded wonderful until I ran in to the problem of bridesmaid dresses. I wanted to do a blue BM dress but unfortuantely I hated the dress that I picked once I saw it on my girls .. and that designer had the only blue that I liked! The problem is the blues I like are only in fabrics for dresses that I don't like but that's beside the point. Anyways, we've picked our dress and I've decided to go with a black dress. While I'd love to do black on black because there's a sash, my girls think this is a bad idea. I love the way black looks with green flowers so I want to stay with a darker color (the blue is an extremely royal blue and the green seems semi-childish with the black in my opinion but it's so hard to say without seeing the actual dress in those colors!) and I've decided on black and an amethyst sash - so that cancels out the blue.
Ultimately my question is .. will black, deep purple and light green look tacky or off season?! Would a black and amethyst colored dress look alright?!
Thanks, as always, for all the advice and suggestions ya'll give!
I'm going to post pictures of the dresses, shoes, flowers and groomsmen attire that I'm thinking of .. so give me a second because I'm slow with pictures!
First is the BM dress .. there's no picture that I can find of the front of the dress but it's just a plain strapless dress with the sash going around the front .. perhaps the champagne would look even though it's a light color and the color of my dress?! So as of now it's this black dress with an amethyst sash ..