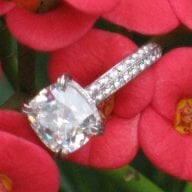 Joined

Jan 22, 2008
Messages

646
Hi all, I'm hoping that someone feels like helping me find the best Chanel handbag to buy. I keep going down wormholes over and over again and I'd like to just find one!
I am not huge into purses or jewelry. By that I mean, I buy very few things and I like for them to be investment pieces that I can take care of and keep always. In the last few years, I have purchased: a Cartier Tank Francaise watch, a Louis Vuitton Neverfull for everyday, and a Burberry scarf.
I have been focusing my search on the Classic Flap bag, but there are SO many of them on Ebay with such big price variations that it is really hard to choose. How much should I pay for one in VERY good condition? It doesn't need to be new, but I plan to only use mine occasionally so I will not subject it to very much wear and tear. Would you use a resale company, like LePrix for example, over ebay? Or are the vendors on ebay just as legitimate assuming they have high reviews?
Does anyone see one I should snap up right now?
Thanks to anyone who feels like shopping