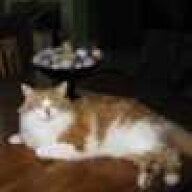 Joined

Jul 11, 2003
Messages

2,328
I came home from shopping today and decided to start cooking dinner, so I slipped off my wedding band and the three stone ring I wear everyday and slipped them in my jean's pocket. I forgot about them and threw them in the washer which is a front loader.

When he was putting the clothes in the dryer, DH found the wedding band. I searched all the clothes several times but couldn't find the three stone. I decided to check the washer one more time and discovered there's rubber gasket around the inside of the door (sad to say I never knew about it or cleaned it). The three stone ring was in there along with a lot of other stuff. Lots of lithium batteries and toothpicks.

So if you're missing something it's worth checking out.