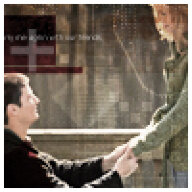 Joined

Jan 25, 2007
Messages

49
I live with my boyfriend, and have been for a while now. We live together very well, in every aspect (plus it probably helps that we each have our own bathrooms! ha ha). Anyways, I hear people who do AND don''t live together talking about how they think that things are going to "change" after they actually get married. I''m not one of those people. I don''t think that anything will change once we get married. I don''t want anything to change because I love who we are.

It seems like with the girls I hear saying that things are going to change after marriage, they are talking for the BETTER, where as the guys make it sound like getting married means the end of their freedom. I don''t ever want my boyfriend to feel like that. I''ve heard girls talk about how after they get married their guys are going to magically want to spend all of their time with them, and I think that those girls are really in for a big disappointment. Then I hear the guys talk about how getting married means the end of video games, guys nights, pressure to have children, etc. I don''t know why so many people seem to envision things like that. I just think that both sides have unrealistic expectations sometimes.

Has anyone else ever noticed that, or is it just me? I''m not talking about you and your S.O. necessarily, but I''m talking about what you''ve seen and heard from other people and their expectations after marriage. I''m just curious.