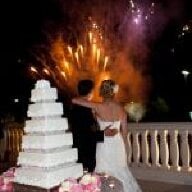 Joined

Jan 8, 2009
Messages

690
Hello- Not sure where else to post this, but thought any general knowledge, personal experience, or "I know someone who...", might assist in my query.
Ok, so my bf has the ring and should be proposing soon. We both agreed that we dont really need a long engagement. Mainly because we have been together since 16/17, but also because he doesnt want to drag it out, and because I plan weddings for a living I am positive I could do it in a few months.

I am thinking this Sept/Oct.
Here is my question: are any of you girls planning on (or has anyone you know) havin a wedding with 4-5 months notice at a Catholic Church? I know the general consensus is most Catholic churches require contacting the church a year in advance of intended wedding date. I have seen some post they they will do it
at the very least
in 6 months, but it is extremely difficult and very rare to pull off because of date availability, meeting with the priest, pre-cana classes etc. So is it a
rule
to be that far in advance, or is it just a time issue? Some people have told me they make you wait a year to make sure you arent rushing into marriage. But believe me, I wouldnt call 8 years together rushing would you?

Just wanted to know if 4-5 months is
do-able
, or if I am wasting my time in even looking. Let me know, thanks!