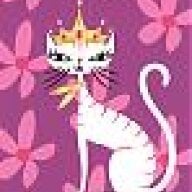 Joined

Mar 15, 2004
Messages

6,825
It's a total long shot...but I figured I'd ask...Anyone had a cat with ear disease? I just can't get a break and actually get a healthy cat LOL...Vinny had a CT scan done after months of trying to figure out the problem....I opted to hold off on it to see if a last attempt might help him....

The scary thing is the facial paralysis...So wondering if anyone has experience?

I'm betting his blood work comes back FIV+ like his step brother did...FIV cats get a lot of ear problems...But who knows.

P.S. Get pet insurance! We cancelled ours. Idiots.