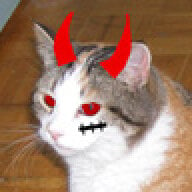 Joined

Nov 19, 2004
Messages

3,429
Hi everyone,

I'm a little frantic right now and don't know what to do. The family cat (he live with my parents but I grew up with him) is very ill. Zebra is 14 years old, he was diagnosed about 8 weeks ago with diabetes. My parents discovered the problem when he had a tooth infection, and became lethargic. With all of the tests, we discovered he was diabetic.

For 2 months he has been well. Then on Thursaday, my father noted that in AM he only ate 1/4 of his can of food in the morning. Usually he eats it all. At supper, he didn't eat anything. The next morning on Friday, again, he only ate 1/4 and was lethargic, he wasn't coming to us when we called. Friday at noon, I came over, and took a blood suger (my parents aren't able to do it, and I came as soon as they told me he was unwell). He was still moving around, although not that active, stayed curled up when I came over, instead of running up to me.

His blood sugar was 30, so I took him to the vet....

Well at the vet, it was kind of a strange experience. The vet said he was dehydrated (which I agreed with). He didn't really make any suggestions. Finally at my pushing, he said I should take him home and give him fluid subcutaneously. I said "ok.." So the technician showed me how to do it, by giving 15 cc of volume. Seeing how it was done, Zebra meowed like it was really painful, so I went to the vet, and told him I would prefer if he was kept overnight to give him fluid IV. I didn't feel comfortable giving him 5-6 painful injections. My rationale was that I thought an IV would be less painful, AND they would be able to give him more fluid.

So this morning (about 12 hours after we had left him at the vet) I went to visit him. He was getting IV, and his skin turgor was better. HOWEVER what really worried me that he was REALLY lethargic. Like barely lifting his head. I was so upset that I just left (not smart, but the vet wasn't in, and I didn't think of talking to a technician.).

So I'm turning to you guys for help. After thinking about this, I'm wondering, is it possible that vets give a cat a bit of sedation while the IV is in????? I'm wondering if this could account for the lethargy. I'm terrified it's because he's getting sicker! At the same time, wouldn't a vet/technician call us if our pet was getting sicker and sicker??? Realistically, I figure an animal is like a human diabetic. Most humans don't die of hyperosmolar state. They need aggressive hydration and insulin.

And the vet didn't even want to keep him overnight initially. Even AFTER I asked them to give it to him IV, he told me, "Why don't you take him home and try it subcutaneously, and if it doesn't work, bring him in tomorrow AM." This leads me to think he didn't think the cat was THAT dehydrated.

Anyone have any insight? I'm completely unaware of how vet's work. This is the first time any of our pets have been this sick. I'm just concerned because he looked even more lethargic then when I left him last night.