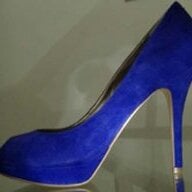 Joined

Dec 14, 2007
Messages

19,456
I wanted a .5ct diamond.

Then I discovered colored stones.

Then I found PS.

And discovered spinel.

I ended up with a 1.2ct spinel that's 6.5mm. My mom's 1.5ct princess diamond looks smaller than it. And it cost about 44 times what my stone cost. That .5ct diamond? About 10 times what my spinel cost.

So...yeah. I still plan on getting a diamond eventually. But I'd say that most rings around here are about .2-.4cts.