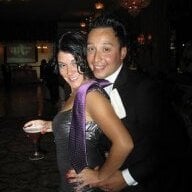 Joined

May 9, 2008
Messages

485
We came up with them with the help of other non-traditional vows but im afraid they may be to long or that I ay have left something out. can you please read them out loud and tell what u think .thanks


I love you ( )
and because I do, I want to grow old with you for the rest of my life.
I will share in your dreams, and support you as you strive to achieve your goals.
I will listen to you with compassion and understanding,
and speak to you with encouragement.
I''lll help you when you need it, and step aside when you don''t.
I promise to always cherish our relationship regardless of the obstacles we will face together
And be willing to face any changes necessary to keep us happy together.
I promise to always be the person, who you can trust and talk to about anything, and the person who will be right by your side.
I look forward to the life we have planned together, and today I take my place as your (husband/wife).
Take this ring as a sign that you are officially all mine.