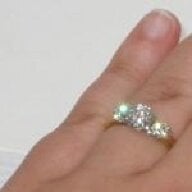 Joined

Dec 12, 2008
Messages

1,557
***Oops! Not sure why the title got cut off but it's supposed to say:
and other "house before wedding" ladies....


Hi Mayachel,
I saw on the the "Waiting until marriage?" thread that you bought a house last year before getting engaged. First of all, CONGRATS on the house and the upcoming wedding!

Second, I just wanted to hear from you and other ladies that did something similar.
Why did you do it? Did you get any grief from people? How did you handle it?

I ask because my BF and I were planning to get married this fall but have postponed the wedding because we want to buy a house first. I was having a really hard time picking out my ring and planning the wedding because every cent we planned to spend, I just saw it coming out of our house fund. I wasn't actually enjoying looking at diamonds because I just felt guilty.
I know that we could get married cheaply and don't need a diamond engagement ring. That's not at all the issue. The issue is that we want a nice wedding but our first priority is getting into a nice house. We can easily afford both things in the next few years, it's just a matter of which comes first.
I am well aware of the "dangers" of buying a home together but BF and I have been fully committed to one another for over 3 years and I just don't feel like the piece of paper should automatically jump ahead of our other goals. We bought a car together 2 years ago and have lived together for 2 years as well. While we have seperate accounts, our finances and financial goals have been combined for quite a while. Plus, we're both lawyers so we can protect ourselves with the right paperwork - don't worry!

Anyway, sorry for the long post. I'd love to hear from any ladies that went for the house first!