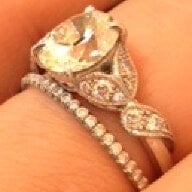 Joined

Feb 17, 2007
Messages

14,167
Sooo, I have been looking back in the threads to find pics of barn weddings, and I absolutely LOVE yours. Very similar to what we want.

What I wanted to ask you was:

1. Did you do your own BBQ "catering"? And was it a pain in the neck? Would you do it again if you did?

2. How did you organize the timing of the ceremony-food-bonfire? We also want to do a late night bonfire, but weren''t sure if we should aim for an early afternoon ceremony or a later one.

3. Where did you get all those great glass bottle sodas?

My mother is already starting to organize things even though the engagement isn''t "official" yet and she wants to make a reservation for a local barn/estate that books up fast, so she wants me to figure this stuff out on the fly. Geesh. I am NOT good at making decisions!!!

Thanks for your help, your wedding looked fantastic. What state was it in if you don''t mind me asking?