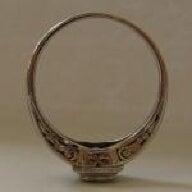 Joined

Jun 20, 2006
Messages

2,822
So a friend (of my friend HJ) of mine is a pediatric dentist and is in danger of being proposed to. The dentist in question isn''t a blingy girl, she doesn''t really wear any jewelry to speak of, but her FFI would like to give her a ring and has enlisted HJ to go shopping and get an idea of her likes/dislikes.

HJ in turn asked me because 1. I''m a jewelry whore. No, it''s Ok, I already know. and 2. because I too have worn sterile gloves daily for the last umpteen years for work and have a ring designed with that in mind.

My impulse is to tell her try bezels and maybe 1/2- 3/4 eternity bands since if she doesn''t even want an e-ring, maybe a one-ring-to-rule-them-all type band would be a better choice.



So you dental geniuses, what are your rings? Are prongs really an issue? Have your gloves been victimized by your bling?

Comments? Suggestions? Salient witticisms or bright ideas?