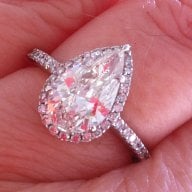 Joined

May 23, 2010
Messages

6,731
So, DS and DIL bought me a piece of Fiesta ware from my wish list, for Christmas. I opened the shipping box, and it was in pieces. They said they were so sorry, I said no problem, take a picture to send to customer service, etc. Fast forward to today, I texted them both and asked if the Fiesta people would need the dish back. The response from DIL was
"Yes, the website says they will arrange to pick it up*. It said for damaged items to call their customer service and arrange the replacement."

This is what I don't get. Does she want me to call them? I don't think I can, since I didn't order it.
Should the giver or the receiver arrange to replace a broken gift?

Under the advice of DH and DD, I texted back
"Ok, great
let me know when they will pick it up."
No response.
I strongly suspect that they will not call and I will never get a replacement.
I guess I should just buy my own? It was only $25, but it is a completer to a set I have and I kinda need it. The only other gift from them was 2 used paperback books.
Interestingly, we ordered a gift for them and a few weeks ago, it also arrived broken. We arranged a credit, and DH replaced the broken glass himself, and we gave them the gift without them even realizing it had arrived broken. Seemed like the mature, adult thing to do. Keep in mind these two are almost 30. Kinda feel like sending the picture of their broken gift (taken to get the credit) to them in week or so, if it appears that they have made no effort on their end.
*Oddly this is not at all what the website says.
It says to call customer service with your order number.