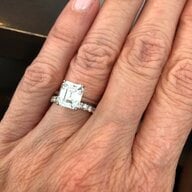 Joined

Feb 12, 2011
Messages

4,719
I struggled with coming back and adding a new thread. In fact just after I was diagnosed with DCIS I asked a question on Hangout and then as my diagnosis started to unfold I asked Ella to close my thread. For several reasons I'm going to start a new thread in an effort to suggest to anyone who is putting off their mammogram or anyone who thinks the new recommendations for screening are good enough for them I want to share my journey. One disclaimer, I'm on pain meds so mistakes or "overtone" should be taken with a grain of salt. I posted on a thread yesterday, went back and read it and thought who are you? ugh...the Percocet was talking and I'm not posting any more opinions.
On 9/19/15 I was diagnosed with DCIS I knew nothing about it. As I started to read about it I found it was Non-Invasive and was considered Pre Cancer or Stage 0. One thing you should know is DCIS while in itself is Non-Invasive it can change and evolve to invasive there are different grades and elements that make the choices for treatment much more difficult to make. Thanks to the thread I created a very kind PSer pointed me to a Breast Cancer website that would be my source of information and support as I worked through the pathology report and the choices I needed to make.
One, DCIS is highly controversial about should it be treated or "watched". Some treat it aggressively others less aggressively but all treatments have consequences or health impacts. I'm not a medical expert and I'm not suggesting treatment based on my decision. Everyone is different.
My diagnosis was high grade, negative for hormone receptors. This is more rare, about 20% of DCIS is negative for both estrogen and progesterone High grade has a higher likelihood of returning or evolving into invasive cancer. The consideration is that if it is already negative in the DCIS form and it returns as Invasive Cancer which could be negative for HER2 (which they only measure in invasive cancer) it could come back or evolve to a Cancer they call Triple Negative Breast Cancer. You only have to look this up one time to know it is nothing you want to ever have to deal with.
My General Surgeon after providing my pathology report details told me she was really only comfortable with a Mastectomy. Had I been diagnosed with a Low or Medium grade or been positive for either hormone then the standard of treatment would have been lumpectomy, radiation and drugs for five years post surgery and radiation. But, High grade negative status has to be addressed differently. This is a highly regarded surgeon with 20 years of breast cancer experience. She was simply wonderful took a lot of time with us and went over every option and consideration possible with every decision I could possibly make. (In 20 years should could count on one hand the number of double negative DCIS she's addressed)
My husband and I decided we wanted peace of mind and after careful consideration, including seeking an additional opinion and talking at length with the Radiologist Oncologist we elected to take the most aggressive approach. I'm one week and one day post op (10/15) and I could not be more at peace with my decision. Although a bit sore. Less than one month from diagnosis to surgery.
My final results came back yesterday. No Invasive Cancer was found, my lymph nodes were clear and all margins were clear. I'm cleared to start reconstruction and I'll be referred to an oncologist to cross our T's and dot our I's.
In the forums I read where other women came out of their lumpectomies without clear margins and second and third procedures were needed. I read about pathology reports that came back with DCIS but also Invasive Cancer that had not shown up on the MRI but had been located in the tissue. I'm unbelievably blessed and feel like I made the best decision for me and that truly my faith helped me through the last five weeks. Some days were a blur of tears and fears others resolution, acceptance and preparing.
Please if you have a history or if you have been putting off your screening
don't
. Mine was picked up in a routine mammogram and showed up as calcifications. One small group 2 cm in circumference. It wasn't large but had the pathology to become more dangerous had it gone undetected or untreated.
A few people close to me in the PS family have been kept in the loop and have provided incredible support. Hugs to your my friends. Thank you for your love and support.
Many, many people do not agree with the new mammogram screening parameters including many in the AMA, the breast cancer websites are clearly not in line. I also cast my vote as
not in agreemen
t. On these websites I haunted for the past five weeks I've come across many, women in their 30's, 40's and some in their 20's facing this disease. Breast Cancer changes lives and in many cases shortens lives. So this is my only public service announcement of the year. But after three friends told me they had been putting their screening off and they had now scheduled it I decided if I get one more person out there to stop putting it off I've helped someone!
Save the person your family loves and needs. Take care of yourself first so you can be around to take care of them!