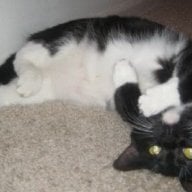 Joined

Nov 12, 2008
Messages

667
Are any other LIWs with an estimated wedding date worried about not getting the venues you want because your guy is waiting to propose?
We are planning a June 2010 wedding and he is totally on-board with that.
"Back in the day," when I was expecting an 18+month proposal, I was super excited about being able to guarantee all my first-choice venues since the avg. engagement in one year. Well, now, June 2010 is just over 14 months away...
...anyway, one of my very top-choice reception venues is booked until Fall 2010. So scratch that place. (I even asked B about booking it before being engaged and he literally laughed at that idea.)
Last night, I was on the blog of my future photog (she is phenomonal and cheap and I will book her probably within two weeks of getting engaged) and she said she is already having some 2010 dates booked and she''s totally booked for 2009.
Thank goodness the church lets you book only 12 mos. in advance, so as long as B proposes one year in advance, I can get that booked.
I know it''s a totally crazy thing to be worried about - I mean, this is about marriage, not just the wedding - but I can''t help but stress when I start to see various venues/vendors get crossed off the "potential" list because I''m (still) waiting.
B''s reply is, "well if we want the vendor bad enough, we just move our date back." I just pout and say "I want the date and the vendor".

Can anyone relate?