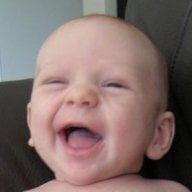 Joined

Feb 27, 2006
Messages

3,136
My mom and I are really disagreeing about the BM dresses, and I just wanted additional input.
FI and I are having a fairly formal daytime wedding. The guys are going to be in kilts and Prince Charlie jackets and I''m wearing a floor length dress with a fingertip veil. Weather-permitting, the ceremony is going to be outdoors, in May, which can get fairly warm in Virginia.
My biggest wants for the BM dresses is that they flatter my BMs, that my BMs are comfortable, and that the dresses are relatively affordable. Two of my BMs are students, and the other one recently started her first job, and I really don''t want our wedding to be a financial burden to them. I''m hoping to keep the price to $150 or less. If we fall in love with a dress that''s more expensive than that, I''m willing to pay part of the cost. I''d prefer that the dresses be navy, green, ivory, or another shade of blue.
I discovered yesterday that a lot of the JCrew dresses are on sale, plus I found a discount code for an extra $20 off. My MOH, FI, and I really like some of the knee length dresses (and the antique blue and hunter are both so pretty). They also look very re-wearable, which is a plus considering my BMs incomes, and I thought that the shorter length might be more comfortable for my girls if the weather''s pretty warm. But my mom''s insisting that since my dress is floor length, etiquette/tradition dictates that my BMs must have floor length dresses. She just sent me an email with lots of links supporting this. Emily Post (Peggy Post?) says that the lengths don''t have to match, but that both should be long if the wedding is formal. Our guys are wearing formal Scottish attire, but FI and I are expecting that few of our guests would wear tuxes and gowns to an 11:30 am ceremony. A lot of the other aspects of our wedding will be fairly formal -- traditional engraved invitations, for example. So is our wedding formal, or semi-formal? Would it be a faux pas for us to have shorter bridesmaid dresses?
Also, whenever I come up with any dress alternative that costs less than $200, my mom tells me that the bridesmaids are going to be standing in front of everyone and that she doesn''t want cheap dresses to cheapen the look of the entire wedding. Is anyone
actually
going to walk away thinking, "Wow, their wedding was so cheap, their BM dresses looked like they only cost $100"??

(Sorry, this is turning into a rant.)
Thanks in advance for any advice you may have. This is just getting so frustrating.