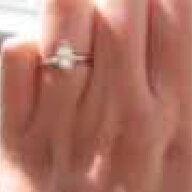 Joined

May 8, 2008
Messages

155
I am a little annoyed--my BM dresses were supposed to be in March 1 and they aren''t here yet. I called the store on Friday and they called the manufacturer (Mori Lee) for me to see what was going on. Basically, they found out that 5 of the 6 dresses are ready, but the last dress won''t be ready until April 1! (We ordered the dresses at the beginning of January.)

My wedding is on June 13, so I know that everything will be fine as long as it is ready on April 1 like they are saying. (After it is ready, they ship it to the store, which could take a week, and then they ship it to my BM, which will take a few days. So she will actually get it closer to the middle of April.) I just am worried that if it was delayed once, it could be delayed again. And I want them to have plenty of time for alterations if they need it (the dresses were ordered 2 to 3 sizes larger than their street size, which I know is normal, but I still have that little worry in the back of my mind that they will be too big!). Also, weren''t the dresses all supposed to be cut from the same dye lot, or is that a myth?

Anyway, I realize it''s not a disaster, but I wanted to vent a little bit!