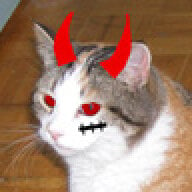 Joined

Nov 19, 2004
Messages

3,425
Hey!
You know what you have to do when you pop back in? Start your own thread!!!!!!!I would have been so sad if I had missed the pictures, the story, etc, only came accross you by luck after having seeing Deco''s thread on her Kitty. And you''ve added yourself to the list. Yea! Now you are obligated to pop back in more often, so we can see your special blue dog. I''ve been thinking about you, wondering how it was going with your new man. I''m so so happy that you have found someone that makes you happy. You have been through a lot, and there is no one that deserves it more. I hope your stay is short on that list (VERY SHORT).
Tell us what else you''ve been doing! We know about the younger man
but what about you? Your job? Everything else going well?
I''m just thrilled to see the pics and know that you''re doing well!