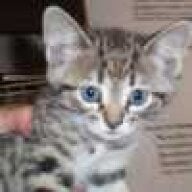 Joined

Jan 6, 2008
Messages

808
Lately, my baby fever has been acting up bad. Does anyone else get like this? I feel like I'm all alone in this sometimes....

The majority of our family members in our age range (25-30) either just had babies or are trying to conceive. Spent Easter with my cousins and their two new (adorable) babies and that made my baby fever even worse! I think I would've been happy taking one home with me, lol. (Kidding, kidding - but I will babysit whenever they want!).

I don't feel I am idealizing having a baby, either - before our house was ready, we lived with his fam for a few months including a his nephew who was around 18 mos at the time. I've had a reasonable amount of 'real life' exposure to kids (as much as one could have without becoming a parent, which I realize is a whole 'nother ballgame). So I know it's a lot of hard work, etc.

I just feel... ready. It's always been something I've wanted someday but lately I want it now. I am really trying to focus on enjoying & doing things that will be more difficult with kids - like my hour long workouts, etc. Still, it isn't helping entirely. Maybe my hormones are just in overdrive, I went off BCP 3 months ago (for health reasons) and at the risk of TMI, my cycle and such is out of whack too.

SO doesn't understand at all. He wants kids, but he's nowhere near ready. He mentioned being 'too young' the other day and I was like 'You're 27'. I totally, 100%, respect that he's not ready. But objectively speaking, we aren't too young anymore. Then I get to thinking about all of the things we have to do first - get engaged (fairly certain that will happen this summer), get married, figure out finances. It's daunting- & frustrating- because the list is so long. I'm 25 now, I figure we'll get married next year when I am 26. Then it may take awhile to conceive or we may have to wait awhile to sort out finances and other matters - before you know it, I'm not sure we'll have 2 by 30 like I had always wanted. As mentioned in the title, none of this helps engagement impatience either!

I know his reasons are right- he wants to be able to provide for a family,, become more established in his career and ideally, make enough so that I have the option to stay home awhile, etc- but a part of me would feel better if he at least felt the same way a teeny tiny bit, even though we can't have kids right now for a # of reasons regardless.