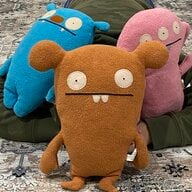 Joined

Oct 24, 2012
Messages

12,462
So I rented this movie the day before the Oscars. I didn't know it was nominated. I am a sucker for movies about journalism, and I loved all the actors in it, so I thought, yeah, why not.

I usually never start threads about this, but I still find myself thinking about the movie a lot, looking up pieces on it and the true people, and just understanding what happened. So I'm just wondering about other people's thoughts about this movie, if they've seen it.

I thought the movie was authentic, well-acted and impactful. I watched it three times in two days. I am fascinated by the process of deciding a story is important and the research required to uncover it, and everything that entails. And as to the subject itself, I'm just speechless and cannot begin to articulate how I feel about it. It punched me in the gut, without in any way, obviously trying to wring tears out of me. None of the characters chewed up the dialogue. No war, car chases, love triangles, final confrontation with a gun. It's basically about people working hard to accomplish something that they knew was the right thing to do.

I did not watch any of the other movies nominated. So when I say it deserved taking the best picture award, it's a very biased opinion. I am glad it won.

I have no specific question except to ask what people's thoughts are on it, if any...