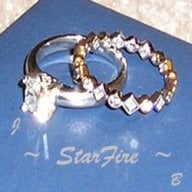 Joined

Mar 24, 2007
Messages

6,232
Hey all, my friend asked me to be the officiant for her wedding in September (about 5 weeks away). There will be about 20 guests, and it's at a hotel in New Orleans. She was actually my wedding officiant, so it's really fun that I get to be hers too! I got ordained online, and I'm really excited, but I could use some suggestions on how to create a beautiful ceremony. The couple isn't very religious, and neither am I, so I'm going for a largely secular ceremony.

General tips and specific reading/speech suggestions would be much appreciated! I've already run a few by her and she wants me to start by reading "Union" by Robert Fulghum. Of course, I'll be talking with her to see what they want to include, but she's doing a lot of her planning last-minute, and I think she might appreciate my taking some of the burden off her shoulders.

Also, what are your thoughts on unity ceremonies? Touching or cheesy?

Finally, I'd love suggestions on what to wear. A suit would be the most conservative option, but I think it feels a little stuffy. I went through my closet and found a black knee-length A-line dress with a conservative neckline and a small amount of sparkly beading on the front. I was thinking of adding a bolero jacket to make it more formal and conservative, then I could take the jacket off for the reception.