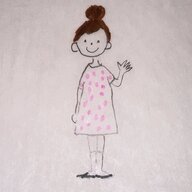 Joined

Feb 2, 2016
Messages

6,419
Yesterday night I told my husband something I never intended on telling him but I just had to get it out there.

I've been having habitual dreams about an ex-boyfriend all year long, before this I would dream of him regularly but oddly enough not the year I was pregnant. When I'm pregnant I'm pregnant in my dreams every night until delivery. Anyways these dreams have been getting progressively more serious in nature. In this weeks dreams I realized that this ex could never support me or my sons like my husband can (I am not materialistic and didn't marry for money so no idea where this came from) and then the following night he proposed to me at the mall (with a less than spectacular diamond) and I accepted and met with my husband's cousins to tell them that we were getting divorced. I never planned on telling DH about this because it would hurt his feelings and I would rather just carry this around than risk that. It finally has gotten to a point though that I felt like keeping this from him was not healthy and keeping us from healing our relationship, so I told him.

A little backstory, the ex and I dated from 1997-2000 and for a while after we broke up we would talk on the phone. He was my first love but two years younger and we had different life goals at the time. The last time I saw him was 2012, we went to the same gym. I caught wind that he was talking about how he has never gotten over me but knew that he had no chance since I'm now married with kids. Since then, no contact, I haven't seen him either.

DH is a bit disturbed because he took it as I'm not happy, I'm not, I haven't been able to get over him telling me we were done this past June in the midst of a heated argument. He went for a walk and I was left sitting there thinking this was the end and trying to figure out in my head how I was going to live apart from him. I have forgiven him but that feeling is still there. It is the same feeling I had with the ex-boyfriend and we broke up shortly after. I believe the reason these dreams are around is because part of me wishes I could go back to a time where I had less responsibility, I had a job, lots of confidence, independent and life was easier and because we are having a rough year they are even more frequent than before.

I also recently told him that I'm not over him telling me he was going to leave, he had no idea about that either. I didn't talk to him about my feelings again because I felt that would stall progress but recently I realized that keeping all this to myself isn't going to allow me or us to get where we need to be. It is a wonderful thing to finally let all this out because I don't believe in keeping anything from a spouse, even these silly dreams, total transparency is the only way IMO.

I feel horrible about this even though I don't have any control over these dreams, I'm hoping that after telling DH and you guys they will stop, that perhaps by keeping it to myself it increased their frequency. Maybe? I hope so. Also no more keeping feelings to myself for the sake of someone else.