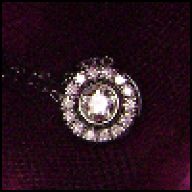 Joined

Mar 14, 2009
Messages

2,146
Hello Beautiful ones! (and handsome MIWs too)
2 Questions:
Just out of curiosity how important is/was the beauty of your ring design compared to the function of actually wearing it? (Any surprises?)
I''m interested in opinions of new ring owners as well as owners of rings that have seen years of love.
my personal opinion:
I''ve seen a lot of heart-meltingly beautiful pave, mill-grained, engraved and high set rings, that I''m sure would look stunning on my hand, but am hoping for a very simple lucida bezel.
For me, the worry of loosing stones and the inconvenience of having my ring catch on things, and having to take it off would outweigh the joys of it''s beauty.
That said, I will get myself something delicate and sparkly for special occasions when I am a wealthy woman, but I want the ring from my Dearest One to be so comfortable that I never have to take it off.
Question 2:
Is anyone picking out their dream ring partly with their career dress code or working environment in mind?
e.g. if you work at a law firm do you desire a particular carat weight to fit in with your coworkers? Are there certain styles that wouldn''t work so well due to the physical constraints of your job?
opinion 2:
I''m not sure about this one - I plan to be doing community planning consulting work with a wide variety of people, so I want something simple but elegant , not too showy.
Thanks for your opinions! (Sorry if I''m repeating something that has already been discussed to death)
HD
I''m so curious the whole engagement ring culture!
(And jewelry culture in general)