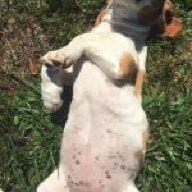 Joined

Dec 27, 2013
Messages

2,740
It was 95 degrees when I checked today. I bought my DH a Chill It towel to use when outside. I also got the dog a cooling mat to sit on for our outdoor class. Any tips on how PS members beat the heat? What's the temp in your area?

Please be careful if you are in one of the excessive heat areas.
http://www.cnn.com/2016/07/20/us/weather-heat-wave-trnd/index.html
Excerpt
(CNN)Unless you're lucky enough to live in the Pacific Northwest, summer's been unflinchingly brutal this week.
The so-called heat dome -- a large area of high temperatures and humidity -- has been baking a good portion of the country for days and there's no relief in sight. The heat will continue to sear parts of the nation, right on through the weekend.
It's not the heat, it's the humidity
About 50 million Americans, mostly in the nation's midsection, are now sweltering through this current wave of extreme heat and humidity. Excessive heat warnings, watches or advisories cover more than a dozen states. The Midwest and South will take the brunt of it over the next couple of days, though. Heat indexes in the triple digits are expected from Minnesota straight down to parts of Texas, according to the National Weather Service.
So that means Minneapolis, Milwaukee, Chicago, Des Moines, Omaha, Kansas City, St. Louis, Memphis, and Little Rock could be dealing with heat indexes as high as 120 degrees, CNN meteorologist Dave Hennen said. The extreme heat will hit the Northeast, Mid-Atlantic and Southeastern states by the weekend.
Even President Barack Obama was worried about the temperatures.
"Stay safe as it heats up: Drink water, stay out of the sun, and check on your neighbors," he tweeted from his POTUS account.
Beat the heat
Here's some tips for staying a step ahead of the heat this summer:
Drink plenty of water. Avoid drinks with alcohol or caffeine, which will only dehydrate you faster.
Eat light meals. Avoid heavy meals that are high in protein, which cause the body to work harder to digest. Eat more carbohydrates so your body doesn't have to use as much energy to digest.
Wear light-colored clothing, which will reflect sunlight instead of absorbing it. It could keep your body temperature down several degrees.
Studies show the best clothes to wear while exercising are none at all! This is because air needs to flow over your skin in order for sweat to cool you off -- as much of it as possible. But if that's not an option, loose-fitting clothing is your next best bet.
Find an air-conditioned place to get out of the heat. In temperatures above 80 degrees, fans won't do you any good -- they just blow more hot air around.
Heat stroke can happen very quickly after heat exhaustion settles in Hot months
This sizzling July just seems par for the course, not just for the United States -- the United Kingdom is suffering through its own heat wave -- but for the entire planet. On Tuesday, NASA announced that the first six months of 2016 were the hottest ever recorded.
Temperatures were on average 1.3 degrees Celsius (2.4 degrees Fahrenheit) higher than average between January and June this year, compared to the late 19th century, NASA said.
In total, the planet has now had 14 consecutive months of the hottest temperatures seen since records began in 1880, the U.S. National Oceanic and Atmospheric Administration (NOAA) said.