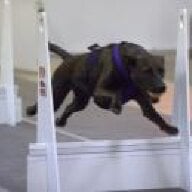 Joined

Dec 25, 2009
Messages

682
Has anyone watched this?
They show clips of dogs (and sometimes other pets) doing "bad" things. They also have the owners tell stories about how the dogs issues/habits started and how much they love their pet despite the issues/habits.
It bothers me.
Many of these pets have behavioral issues that are not funny...I would argue that some of these dogs need major help.
They just showed an American Bulldog who they lovingly refer to as "protective" of her owners. She attacks the door when someone tries to come in. When her owner and his friends get rowdy, she bites at their clothing and sometimes bites through the clothing to their body. Not to mention, this dog lives in a home with children. Episodes frequently show situations like this. Seems to me that behavior like this should not be rewarded and allowed because someone thinks it's funny. It could turn into a dangerous problem.
Another episode showed a chihuahua (if I recall correctly) who displayed aggressive behavior, but of course the owners thought it was cute. The dog would not allow the owners to sleep in their own bed and if they did, they would wake up to a turd on their pillow. I think they may have slept in the guest room so the dog could have their bed.
I need to stop watching this ridiculous show, but I feel bad for the animals. Why haven't any animal behaviorists expressed concern about these animals?