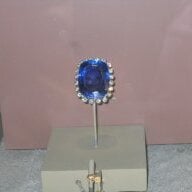 Joined

Sep 5, 2003
Messages

2,403
DS will be 13 months in a few days and is being slowly weaned off breast milk. Since 6 months old, he's eaten dairy in the forms of yogurt, cheese, and milk baked or cooked in food. He's also been getting dairy from me through my breast milk, as I have never been dairy-free. He's never shown any sort of reaction in any way to his dairy exposure. Recently (but while still drinking only breast milk or water), he had a stomach virus with lingering diarrhea. I was concerned about his weight and the length of time he was still having stomach issues. The ped said that after stomach viruses, some babies temporarily turn lactose-intolerant and that I should put him on lactose-free formula or soy milk until the diarrhea cleared up. She stressed that it was different from the cow's milk protein casein and that since lactose (the sugar) is the primary carb in breast milk, me having gone dairy-free wouldn't have helped. So, I did as she said and after he was on the formula for a few days, the diarrhea cleared up and he was able to go back to breast milk with no issues.

He now has been on cow's milk and has been getting diarrhea again. I suspect it might be related to the milk b/c he has his stomach issue in the morning, having had milk the previous night at dinner. Daycare does not yet give him cow's milk and his poop is fine during the day. I took him off regular cow's milk and have been giving him whole milk Lactaid. This seemed like it was working so the other day I went back to regular cow's milk and bam! Upset stomach…again. He's back on the Lactaid and is fine.

So, my question is, is it possible he does have an issue with cow's milk and if so, which kind of issue? Allergic to the casein or to lactose? Why has he been able to eat dairy through breast milk and other foods but not able to drink cow's milk straight? The drs don't seem to think he has any issue b/c he's never shown a reaction before; they think he just needs to get used to drinking the cow's milk and he'll get used to it soon enough. I give him probiotics daily. He's also half-Asian and I know many Asians are lactose-intolerant (I am not, though).

Any thoughts or advice? I feel frustrated that no one is able to tell me what's going on.