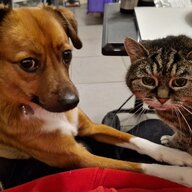 Joined

Jul 7, 2013
Messages

6,583
Not a lot bothers me socially, and I am quite happy to go out and about on my own, like going to pubs and restaurants, cinema and theatre, joining groups and participate in their events, go on holiday on my own etc. etc...
The way I look at it is that, if I do not do anything on my own, I don't do anything at all!
However, I am dreading an event that I have booked, for an evening meal and a carol concert in December 2020 with a dress code "elegant and smart" (reads bling opportunity for me!
), as I only discovered there is a champagne reception before the meal as part of the package!!!
Since I shall be on my own, I dread the idea of having to mingle with other people in groups of twos or larger for small talks, as it would make me feel like I am imposing on their privacy and private gathering. Besides, I don't like being asked intrusive personal questions and being pitied for being on my own.
I avoided going to the theatre on my own for a while as I would feel awkward being on my own at the bar during intervals. I got round that one by not having any alcoholic drink at the intervals, just a dash to use the facilities and then return to my seat to read the programme.
My plan for the event would be to request for my glass of champagne (I shall make a request for a dash of liqueur of some sort to be added to it as I do not like champagne on its own) to be brought to my table, and I shall arrive shortly before the guests are due to sit down for the meal, so that I could go straight to the table.
I am sure I will be fine.
Care to share your awkward social situations that you dread?
DK