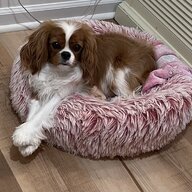 Joined

Aug 12, 2005
Messages

19,062
I''m so shocked and amazed that I had to post my story here!!! It seems like great customer service is very tough to find, so when something like this happens (and it''s not even that significant, really) it just blows my mind.
Background: several years ago I bought my mother the Swarovski Braveheart pin--the one that commemorated 9/11--and she loved it because she''s super patriotic. It''s a little sparkly heart-shaped tack pin with red, white, and blue crystals. The back fell off maybe a year after I gave it to her, and ever since then she''s had some other back from a different pin on it. The problem with that was that the back she''s using still allows the pin to come through, thus poking her unless she pins it to a scarf or thick lapel. Recently she asked me if I thought I could get a replacement back for her.
I figured I would end up just replacing the whole pin itself, but she insisted that it had sentimental value and she didn''t want a new one.

I went to Swarovski''s website and used their customer service email to request info on how to go about obtaining a new back, but didn''t hear back from them for a week and a half. I had given up, since I thought that was a long shot anyway.
Today, I received an email from Swarovski''s customer service center in RI letting me know that they had shipped me TWO backs, at no charge! Are you kidding me????? What alternate universe am I living in where a company would go above and beyond like this? Ok, so it''s not THAT big a deal, but it''s little things like this that make me a happy customer and want to continue to purchase from a company.
Just wanted to share! Kudos, Swarovski!