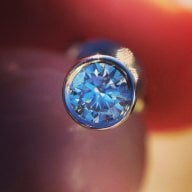 Joined

Jul 7, 2004
Messages

10,835
How many have an Apple Watch? How does it work for you?

Yesterday was a real shitty day for me medically, I was put on a weight loss drug by my endocrinologist because I have been unable to stick to the prescribed diet I was put on and she's basically had enough. She mentioned that I should get an AppleWatch because my "Fitbit isn't doing it's job" and the AppleWatch has a better HR monitor and better reminders to make me get up every hour. I was holding out til later this year for the new models but I am considering picking one up if I can find a preowned or refurbished one of the Stainless one I was curious about. That way I can at least see what I think. I did not care for the Fitbit Charge HR at all and took it back. My mom likes hers though.

I went to the Apple store today and tinkered with the model on the floor and it seemed like I could figure it out but there were a lot of things I was a little overwhelmed by and didn't really get. Everyone I know with one loves it, though.