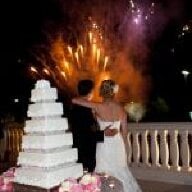 Joined

Jan 8, 2009
Messages

690
Questions for anyone's whose wedding is this weekend and worried about Hurricane Irene.

I dont know what to do about my brides the the weddings that I have planned this weekend. They are debating whether to cancel, so as not to put their guests as risk and/or pay for X amount of people when many wont show, or if they should just go through with the wedding since rescheduling everything would be to hard. I feel like with my winter weddings with snow storms, brides are mentally prepared for that, and a snow storm is prepared for. But a hurricane for the north east isnt exactly something they were expecting, nor is the exact outcome a "sure thing", since the course of the hurricane and its impact on this area can certainly change over the next few days.

Many venues do have an "act of god" clause in their contracts though, stating if something prevented them from servicing the event that they can cancel (power outages, staff not being able to get into work, flooding, a state of emergency preventing people traveling here, etc). So they may end up getting canceled on anyway. So I feel like it may be better to just cancel now in advance so everyone has notice, rather than waiting until last minute? But then what if we end up not getting hit and they canceled for nothing?

My friend was having a Christening this Sunday and the venue has already canceled on her.

What would you do? Anyone getting married this weekend that has to worry about this?