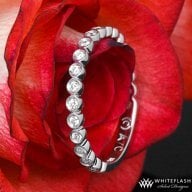 Joined

Nov 12, 2007
Messages

2,568
I'm feeling a lot of anxiety right now, and can't seem to snap myself out of it.

It's not a panic attack, I just have that pit-of-my-stomach yucky feeling! Plus, I'm stuck at work for another hour or so and took an hour for lunch, so a real 'break' isn't an option.
I have a big report for a grant due in a week, just got an e-mail from my director that's freaking me out about another funding situation (too much $ is sometimes worse than not enough!), and have yet to ask the IT dept. when my computer can be moved since I'm switching offices (but I'm switching offices so I don't have to stare at the head of IT since our offices are fishbowls and he is always grumpy!). On top of that, I am expecting a package with sparklies in a day or so, so my excitement is mixing with my anxiety.

I really just need to go to the gym after work, but I thought I'd vent to PS until I can do that.