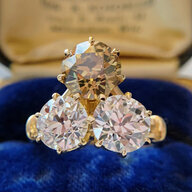 Joined

Jul 23, 2012
Messages

19,732
So two years ago a dear friend of mine got engaged. She asked me to be one of her bridesmaids

She is getting married next month. Besides the bridal shower I went to last month, I've seen her one time in that stretch of time. As you can imagine, we aren't quite as close. Frankly, I assumed she would renege on the bridesmaid request she made of me.

Anyways just everything about it annoys me. Maybe becuase I don't feel close to her anymore, but all the things you ask your bridesmaids to do is more annoying to me as I feel like "who am I even doing this for."

As many of you may remember for a previous thread. She has bridesmaids ranging from size 8 and 5 10 (me) to size 30+ 5 2.

She took one of the plus sides bridesmaids to try on dresses and picked one out. I look like garbage in it, but whatever. She bought it from David's bridal so I'll spend too much for a trash dress made of paper towel but ok I do it. She just said "go buy this dress in this color" and that was that. I was unaware that David's bridal would take 4 months to get a size 8 dress. I go to the counter and they tell me "it'll be ready June 6", when's the wedding. " wait, crap!", I thought. No save the dates have gone out, when is the wedding? I quickly message her to see when it is. Her response was "its this day, I didn't send out save the dates because everyone we care about has known the date for 2 years". Like, what?! I've seen you once in 2 years and I need to remember that you in passing decided on the date?
I barely remember how old I , I'm sorry, I wouldn't remember that.

But I bite my tongue. Drop 150 on an ugly dress and go on my way.

Now it's her bachlorette party. Though I'm not her maid of honor, the task has fallen on my and one other BM to throw her b.party.

Against my advise the other woman started a Facebook page asking when people wanted to have the party and gave three days. One mid may, one memorial day, and one mid week 3 days before the wedding. I find parties are easier if you tell a group of people whats happening, rather than ask, but whatever. Memorial day seems like a bad idea as most people do family stuff. As I am an ADULT and work a 9-5 with two young children, I thought mid week is utterly ridiculous. I was like, who's going to vote for a Wednesday?! But these people apparently aren't adulting as hard as I am, so Wednesday is winning the poll.
The bride I guess is getting really stressed out. I thought to myself that if she's really stressed out, why would she ever want to have a b.party the week of her wedding. Hungover, dealing with last minute stress seems like the last thing anyone wants.
I messaged in the chat why I thought habing a party mid week or on a holiday weekend is a bad idea. And I got "well no date works for everyone". Ugh, roll my eyes back from hell. I don't get along or really even know these other bridesmaids, and we really don't particularly get along. But that's neither here nor there.
I messaged her to double check. "Hey if you're stressed do you really want it that week?"
Instead of telling me one way or another she messaged the other woman I'm planning with, apparently. I got a message from her a moment later "please don't talk to (the bride) about this party"

Oh now the rage is flowing through me. I don't understand how in the world a b.party 3 days before your wedding, and how you're having me in your wedding yet I ask you a question and you can't talk to me?

Many here hate wedding and I'm starting to as well. I'm so annoyed. I've spent a lot of money for her and I don't even know why.



Just venting I guess.