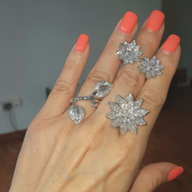 Joined

Oct 5, 2006
Messages

9,974
and "stuff" to my sister & BIL and their kids......

Well, I don't know if I'm reading it all wrong, but am rather "baffled" (let's just say). Long story short, I was supposed to take my niece to Paris this week (thanks again to everyone who responded with all your very helpful suggestions - they will certainly come in handy in the future. I *puffy heart* Paris). Turns out, their parents (my sis & BIL) need some money. I won't go into details of their private life; suffice it to say that they're in a bit of a bind. Granted, they didn't actually ask for the money. My niece emailed me a while ago about their issue and DH and I offered to give them (as in gift, not loan) GBP5,000 which is approx USD8k. They declined initially. I also found out that they'd re-mortgaged their house (which was fully paid off before that); so thought that our 5k pound gift would come in handy/ help them out a bit.

So middle of last week, I said to my niece that we'd use the money that we'd have used for our Paris trip and give it to her parents plus some more. I gave the GBP5k cheque to my niece and insisted that she pass it onto them. A few days passed, nothing, not a word, no email, not a sausage, to even acknowledge their receipt of the cheque. Yesterday, we went out to a family dinner to celebrate my dad's birthday. They still didn't say anything to me and I put it down to the fact that perhaps they didn't want to say anything in front of the other siblings. At the end of the evening, I pulled my sis aside and told her that she must cash the cheque (as I was thinking perhaps they didn't want to cash it/ perhaps they'd just tear it up). She mumbled something like "oh ok, cash the cheque, cash the cheque". I can't even remember if she thanked me or not. I find all that very strange!! Maybe she's embarassed that her younger sister is giving her money/ helping her out. I mean, she needn't be - we're family. But is it wrong of me to expect at least a simple thank you?!

Turning the issue to my dad. My dad is 89 years old, has 9 children (3 of whom live overseas including myself) and tons of grandchildren (some of whom are adults). Yet he's been going to the hospitals all by himself (he's been having some health issues, including some pain in the legs and feet -which I'm actually very worried about incidentally). My niece actually mentioned that she'd take my dad to the hospital and he shouldn't go alone (which I agreed with, but said that only if she didn't mind, which she said she didn't since she's not working and has a car and plenty of free time - so she volunteered basically). Well, this morning I rang and asked her to take him to the hospital on Thursday morning and I *swear* I could sense the reluctance in her voice. I've decided I'm just going to take him there myself since I'm here. But what about when I am back in Singapore? Who's going to take him then? I am rather mad since my mom had the same issues before and when she passed away, we all said that we'd try and do right by my dad, but it looks like history is repeating itself. I'm seriously thinking of coming back here every few months just to make sure he gets the appropriate medical attention.

It's not like I'm expecting a return in favours. This is the sis and the niece (and her sisters - my other nieces) to whom I've given soooo many diamonds (including the ones my mom left me and some of my own), a Rolex watch, a bunch of pearls, gold jewellery, a designer handbag, a bunch to money to spend from time to time etc. I gave them to them because I wanted to. But come on, you can't just keep on taking and not giving, right? I'm not expecting anything to be given to me personally, but I'd hope that they'd want to look out for my dad and NOT because of the presents, but purely out of their love and loyalty and care and concern for my dad. Am I right in my thinking? Am I getting my knickers in a twist for nothing?!