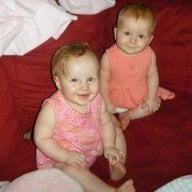 Joined

Mar 1, 2006
Messages

1,113
I need you wonderful ladies more than ever right now! I really never thought I would become one of the brides who bought another dress, I really really didn''t...BUT...
OK, here''s how it started...week before last my Maggie dress arrived. Since I''m getting married on the beach, we ordered an 8 petite b/c it''s 3 inches shorter and I''m wearing flip-flops and the hem would be a PITA. Apparently this dress shop has done this many times before with the maggies and have had no problem -- and they ASSURED me that the bodice would not be shorter than the regular. Yes, red flags should have been waving all over the place, but since I asked and they answered, I really thought we were good. So I got to the fitting and the bodice seemed really different. It wasn''t coming to me that day why it fit so differently. Next day it hit me and I went back to the shop practically in tears since I knew there was no way to re-order in time.
Well, they pinned and prodded and added material and took material in at the hips etc etc so the material wasn''t flaring out all over the place and when I went back today it felt better. (I couldn''t see how low the back was until I got the pics home)...
So I was perusing the brand new sale rack they put out and spotted a dress just like one I''d torn out of a magazine ages ago --- perfect for a beach I''d thought, but probably awful on my body! I''d tried on similar dreses and they didn''t work, but now that I''ve lost over 30 pounds(!), I thought I''d give it a shot (just to wear to dinner in Hawaii --- no need staying in the corseted thing after the ceremony --- I''ll be wearing it again here at my local reception, or so the plan goes). Well, the darned thing fit. And I bought it!
So when I got home I had my son attempt to take pics of me in it ...and I also looked at the pics of my maggie dress and started freaking out. I''m not sure what I''m really thinking because I went WAYYYYY over budget for the maggie --- and the veil was the best part --- and I feel like I have to wear it, but now there''s this other dress that I think I like more than just to wear to dinner! I may be seeing it all wrong and I may just be stressing --- or happy to show off a better figure which may NOT be right in the more fitted dress. Will you guys please please help?? I''m sorry this is so long, but I have no clue what to do (wear the maggie, wear the new dress for dinner; wear the new dress only; wear the new dress for hawaii and the maggie for the reception locally; some other combination thereof???!) THANK YOU ALL IN ADVANCE!
jen
here''s the original of me in the maggie sample dress