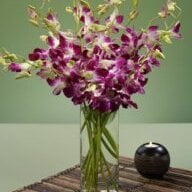 Joined

Dec 22, 2008
Messages

507
My week of anxiety and wonderment, that is.
Girls, I think my turn''s coming and I have reason to believe my BF could "put a ring on it" inside of a week. After all that we''ve been through: him almost being laid off, having an emergency surgery, all of which delayed the engagement, it now feels surreal. Later this week he and I both fly back East to visit family for the Easter weekend. He knows how important my family is to me (as his to him) so I could not see him delaying it until we return. I know from my father (who wasn''t supposed to say anything) that when my BF drives to my home state on Sunday for a family get together, from NY that he intends to bring some extended family outside of just his mother. So I have reason to believe it''s really close.
Plus, BF and I recently met this really nice older couple who are both Reverends and we agreed to ask them to mentor us in the form of marriage counseling when the time''s right. Well, last week he had a chat with them and said to me that "after we return from the East Coast we''ll be getting together." A lot of his words nowadays are "after we return...." I know that they could mean nothing, but it just feels like this is the time. He''s already asked my father for his blessing a year ago so that''s also crossed off the list (my dad let that slip too).
My intention is not to jinx it, but what the hell, how about a little dust?