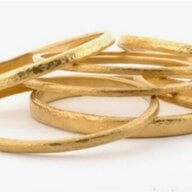 Joined

Jan 26, 2003
Messages

22,129
Today I found out that all my postings (between 3,000 and 4,000, I think) remained on
Diamond Talk
but that none of them was any longer attributed to me as I had signed them.
I had signed all of them "AGBF" (which was removed from all my postings). The vast majority (i.e. the 3,000-4,000) were posted under the User ID "A Girl's Best Friend". On one evening when I was locked out as "A Girl's Best Friend" I signed on as MadAsHell (a new ID) and signed my posts "AGBF".
Now *all* my posts appear under the User ID "MasAsHell" and with no "AGBF" signature...which is not how I wrote them.
I feel my intellectual property has been meddled with and stolen. Thre
Diamond Talk
website had kept my contributions in its archives but attributed them to someone no one knew instead of to me, the well known signer of those postings!
That means that when I use "A Girl's Best Friend" on other forums that people are unable to connect a major contributor (this MadAsHell who contributed prolifically to Diamond Talk) with my on-line persona, consistently used, of A Girl's Best Friend/AGBF.
I have been robbed of what I produced. Sibelius spoke here on Pricescope of how he would handle this.
I let
Diamond Talk
know (by posting about this on DCC) that I consider this to be theft of intellectual property and that I have documented it by copying a page off their website in case they attempt to hide the evidence that they did this.
I have been wondering if Diamond Talk is down, at least in part, to remove the evidence that they *WERE* continuing to keep all my postings in their archives, but without attribution to me.
That's just a theory.