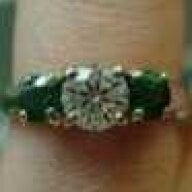 Joined

Mar 2, 2007
Messages

223
One of the grad schools currently interested in me was clarifying some financial details for me, and at the end of their letter they included a note of caution reminding me that the cost of living there is lower than other schools I may be looking at, but that I must already know that since I am currently in NYC and my "fiance" is in a city near them. Um... did I get engaged and not know it? Also, while my boyfriend is near them, he is not in the city they claimed.
I never told them anything about having a boyfriend in the same state (as I was genuinely interested in the school and did not want to make my application appear romantically motivated), so I contacted the only two professors here who could possibly have told them anything of that nature, and one read the letter and was like, "You''re engaged?!?" and the other said she didn''t even know I had a boyfriend. The first professor then joked, "Not only are we prepared to offer you this great fellowship, but here''s a husband as well!"
Needless to say, a little odd. I think they''re stalking me--or clearly know something I don''t.