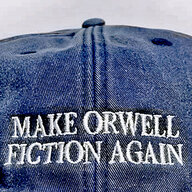 Joined

Apr 30, 2005
Messages

32,299
It's not like I'm his boss and pinching his @$$, but I've posted a couple times that I think he's good lookin.
If I did that about a woman here I think I'd be hanged, drawn and quartered.

I'm conflicted.
On one hand it seems all in good fun, but then I think about the gender-inconsistency of it.

... but Hey! ... DF gets away with posting show-me-your 4oobs type stuff.
You gals seem to not call him on it or report him ...

And does Jordy being straight/married, and I gay/coupled factor to this?

Or, is it flattering, and no big deal?
Next, does any women here relish a man finally suffering through such rude and unwanted 'attention'?

Penny for your thoughts.