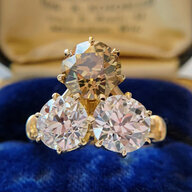 Joined

Jul 23, 2012
Messages

19,954
So I've been looking for a cat to adopt for the last month or so.
I found one I'm very interested in
https://m.petfinder.com/petdetail/33242757?location=48880&animal=&breed=&age=&gender=&size=&offset=1725
They don't really have a website, though I did find them on pwtfinder and Facebook. I can't really find a lot of reviews, but this is a middle of nowhere area.
She says I'm seeing the cats at a "trailer because the foster mom is gone for the week" which I mean I get that rescues use fosters, but still was concerning.
Anybody else feel weird about this or is this normal for foster animal shelters?