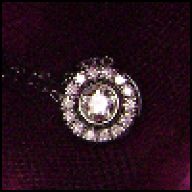 Joined

Mar 14, 2009
Messages

2,146
Hello wonderful ones!
As a new LIW I have some serious diamond fever, but I know that my man doesn''t have the finances to get me a ring any time soon, so I''ve decided that to address my desire to own an diamond, I will just get myself one for a RHR.
I''m thinking a nice Art Deco 1920s peice - something not too fancy, slightly tinted diamond etc.
(He can take the time to get me the perfect rock).
I''m a strong believer in taking the reins of one''s own destiny.
Has anyone else considered taking such drastic action?
bold as brass,
HD