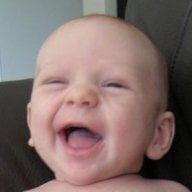 Joined

Feb 27, 2006
Messages

3,136
I didn''t want to hijack allycat''s thread, so I''m just starting a new one.

In other threads about how much people can afford spending on jewelry, people usually advise them not to go into debt. Past that, how do you determine if you can afford an upgrade or a new piece of jewelry? Is it after all your other financial goals are met? When you can still meet your goals on schedule? When you determine that you can meet your other financial goals in not that much more time? (I noticed some people telling Ally to go for the larger diamond if it means that it will only take them a year or two more to meet certain goals.) Whenever the whim strikes?

Why am I wondering? Well, FI and I had talked about adding pear sides to my ring as a five year anniversary present, but FI let it slip recently that he''s really thinking of it as a wedding present or a birthday or Xmas present for next year. The diamond-loving part of me is thrilled, while the fiscally conservative part of me is wondering if we should wait a bit longer. We''ve set some financial goals that we want to accomplish within five years. While we haven''t met them yet, we should be able to do so pretty easily if we continue living off of one salary. We haven''t gotten a price quote on pear sides, but I don''t think it would really throw us off. I know that this kind of decision is very personal, but I was just wondering how other people decided and why.

By the way, if you choose to respond, it''s probably best security-wise to be relatively vague. I know that in the past, some people pointed out problems with telling everyone exactly how much you make or the square footage of your house.