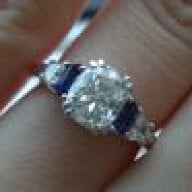 Joined

Mar 2, 2008
Messages

1,749
Hello, I live in the city, with a nearby park with paved pathways. I have never biked much, but would like to, mostly as a fun outdoor activity that will give me a little bit of movement. The local bike shop recommended a Jamis Citizen Hybrid bike.

On-line, I can not seem to find much about these. In fact, I don''t really understand what a hybrid bike is? I do not envision myself ever racing...not my speed. It seemed comfortable to ride, but I have nothing to compare it to. The price is around $300, and again...nothing to compare that to! So, help a girl out if you can. Thanks!

Other bike recommendations are welcome too.