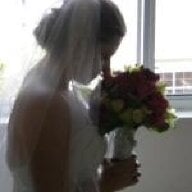 Joined

Feb 20, 2009
Messages

5,496
I didn't know where else to post this, lol!
FI's sister is getting married next month. Her 'top' bridesmaid is coordinating the bachelorette party and set everything up for next weekend. Including her two non-bridesmaid friends and the bride, there will be 8 girls for the party. Before she booked everything, she gave us a rough idea of pricing for the party, but the final price turned out to be more than I can afford. (She quoted us about $125 each, but turned out to be $250-$300 each).

The bottom line is that I cannot financially afford to go to the party. I also have a major gigantic huge assignment to do for school which counts for 100% of my grade. Not only can I not financially afford the party, but I also can't afford to lose a weekend of schoolwork to party. I'm even giving up my birthday weekend activities on my birthday to do my schoolwork. The party is about two hours from home, getting a hotel, drinking (which I don't do much of), food, clubbing, etc. I also am not going to be driving, so I'm dependent entirely on the drivers schedule, which I feel very uncomfortable with doing. If they don't leave until late Sunday night, I lose my entire weekend for working on my schoolwork.

I was wondering if anyone had advice on how to handle this situation. I don't want anyone to be mad at me, but I'm in a serious financial bind right now (and would be put in more of a financial bind by putting out the $300 for the party) and am extremely worried about this assignment. These girls have a fair amount of money, so I don't know how they will feel about me saying I can't afford to join them. I know deep down that I cannot go to this party because of money and school. Even if I do go, I'll be freaking out about school anyway and won't have any fun. Thanks in advance for any advice.