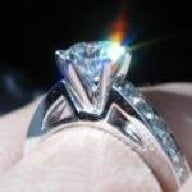 Joined

Mar 16, 2006
Messages

1,733
Recently my fiance'' has been having a lot of trouble with self esteem. In the four years I have known him, I have seen him down on himself but never to this degree. His moods and attitude are starting to affect me, which is both frustrating and scary. I have a lot of self confidence and though I am being as supportive as possible, I am having a hard time understanding what it is he is experiencing and why. We talk about this almost daily, and I am as positive as I can be, but sometimes I feel he is so unreachable. I was hoping that in the vast range of knowledge and life experiences held by the members of this forum, I could get some advice or suggestions of resources to help us out.
In a psychology class text, I recall that I read about a number of major stressors in a person''s life, and he has so many of them right now - new job, getting married, living with a new person, etc. To give a little background, he is from a family that went through a divorce due to alcoholism (father) when he was about 12. His father passed away when he was in high school and his mother is remarried. He is exceptionally bright and always did very well with his studies, though he was and is very forgetful. He spent a lot of time with other academics-minded people competing in Quiz Bowl and College Bowl. He does not have many hobbies he regularly pursues other than playing NTN trivia at the bar with some of these people from past trivia teams. He just graduated law school in May with no outstanding debt due to scholarships, and he studied for and passed the bar exam this summer. He is currently in his first real job with an immigration law firm. Many of his friends from high school through law school do not currently live in our area. He proposed in May and we are planning a wedding for next July. We also began living together in late June in an apartment with one cat. His great grandmother, one of his primary caretakers when he was younger, passed away in mid-May, and he is looking for a new job. Also, FI is a typical Virgo, which of all astrological signs tends to be the one most self critical and most likely to analyze everything with a fine toothed comb. He tends to worry a lot over many things that have or have not yet happened, and he is very cautious about making any decisions quickly. He has lost about 15 pounds since July, which I fear are mostly due to stress and not me trying to help him eat better. Hopefully I am not finding what he loses...

Work has been the most mentioned over everything he says he worries about right now. Immigration law was a subject he did very well in when he took the course in law school, enough to make his professor notice his talents and offer him a position at his own firm. It''s a small firm and my FI is the youngest lawyer on staff by about ten years. He feels he doesn''t fit in well with these people at all. I met his boss and the rest of his coworkers at a holiday party yesterday and I can see why he feels he does not fit in - they have so many more interests and life experiences than he does at this point, and he really doesn''t have much to add to their conversations other than textbook snippets. His boss has told him that he is handling the work as expected and doing well, but that he is too tense. He admits that he spends a lot of time worrying about what will go wrong or pose a challenge to his limited legal abilities instead of focusing on doing every job as well as he can. FI has told me that he is currently looking for another job because he feels that he is "not able to handle the responsibility" of his current position. I am aware that this type of law probably utilizes maybe only 5% of what he learned in school, and that the paperwork is tedious for him, but I am concerned that in his search for something "simpler", he is going to find faults in the new job, become overwhelmed and disappointed, and just begin this depressive cycle again.
He has been going to counseling, where they are focusing on self esteem and self love, and he just started taking two ADHD medication that have an anti-depressant effect when combined. I try to listen and be supportive at home as well, but everything is starting to weigh me down too. I am trying to be upbeat and be happy about the wedding coming up and capably handle my work at school, but when I come home it''s a lot like a black hole swooped in and sucked all the light out of the room. I worry that I can''t do this "until death do us part", that I would be compromising my own happiness. I am reading "The Conscious Bride" and that seems to help me with the engagement and marriage related concerns I have to a degree, but I am feeling like I am at a loss with what to do to help my fiance''.
We have gotten a few books for him (The Art of Loving, and a Carnegie book on worrying less), and I have suggested trying some new things like attending a favorite local band''s concerts regularly and signing up for classes at the local rec center. We talk constantly about all the positives he has in his life. I point out constantly how happy he makes our little rescued kitty Chandler when he plays with and cares for him. The counseling and the medication is also in place as of recently. Is there anything else that we could do? Can you suggest helpful books? Web links? I want to make sure I am covering all bases. It breaks my heart to see him so sad and self absorbed...