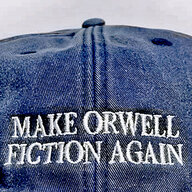 Joined

Apr 30, 2005
Messages

30,304
How do I make sure I use the right pronouns for someone? And what if I mess up? Language can change quickly. Here's a guide to talking gender in its beautiful complexity.
www.npr.org
As we struggle to emerge from our dark past of -isms, equality and respect of
all
others is finally getting the attention it deserves.
I've found the above article to be an interesting and useful guide that examines overdue changes in our culture and language.
I hope my respect of others keeps up with the times, but when it comes to topics like gender and trans it can be awkward and even confusing, at least for me.
Old-school language can reinforce beliefs that are outdated, for instance, harmful language like fireman, mankind, or lady doctor.
Now gender that has been added to the mix, headlines and controversy are everywhere.
IMO the pious and backward will fight changes to gender thinking and language tooth and nail, even more than they fought and fight against equality for non-heterosexuals.
For me it will take a while to introduce myself in this recommended way,
"Hi, I'm Kenny. I use him pronouns. What about you?"