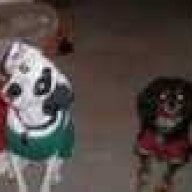 Joined

Dec 31, 2008
Messages

4,508
http://www.cnn.com/2009/HEALTH/03/23/acai.berries.scam/index.html
This article basically advises to be careful of sites offering free diet pills as they''ll charge your ccard anyway, and weight loss has not been proven.
Sounds like a very expensive berry. I do drink and eat dark berries for the natural anti-inflammartory benefits - but I find $6 for some tart cherry juice is more economical and probably works just as well as a $40 bottle of acai juice.
Just wanted to pass this info along!