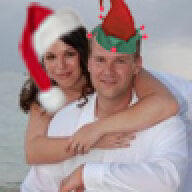 Joined

Jan 8, 2007
Messages

3,962
DH and I are stupid.
We had this great idea to expand the size of the pantry in our kitchen, all the while assuming that we had a box of floor tile hanging out in the garage. Long story short, we built the new pantry, went to tile, and found that the box of floor tile we thought we had was actually our backsplash tile. We assumed it was the floor tile because there were two leftover floor tiles stacked on top of the box.

Needless to say I have been to six, yes six, tile and flooring stores and I cannot find this tile anywhere. I'm so annoyed because our original pantry, though small, was tiled and now it appears that we have to try and remove it without damaging the rest of the tile in the kitchen.
I'm assuming that the only thing we can do is pick a different tile for the pantry (there is a door to hide the change), but I just feel like that is so tacky and that in the future when we sell our house the potential buyer's might be like, "Why is there different tile in here? Especially since the current tile is used everywhere else in the house (kitchen, hallway, half bath, entryway, upstairs bathrooms, etc).
What's making this even more annoying is that I hate this tile in the first place.

We can't afford to redo our whole downstairs though.
So, what would you do in this situation?
ETA: I forgot to mention that we have no idea who laid the original tile...it could have been the previous homeowners but it's more likely that the tile is older than that. Apparently our house used to be a huge dump, and some guy bought it and completely gutted it out. That was like 10-12 years ago. I'm assuming he's the one who tiled because the tile is predominantly white along with everything else he did....paint, appliances, backsplash, countertops, etc.