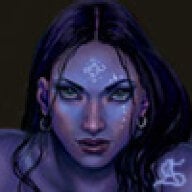 Joined

May 2, 2006
Messages

947
This has been running in my head all of yesterday, and I''m not exactly sure how to handle this situation.

First off, both FI and I are aspiring writers. We both have completed novels that we are shopping around. I''ve put mine aside for a bit to work on a business I''m starting (but will be picking it up again in a couple weeks). I''ve gotten very close to getting representation, but haven''t yet. My FI''s full manuscript is out on an exclusive read at a big-name agency. He''s expecting to hear back within the next couple days *crosses fingers*.

This weekend, we went to his dad''s place for dinner. FI''s brother, wife, and kids were there. I chatted it up, and FI''s brother offered to hook me up with a read by one of his friends - a former literary agent who still has connections in the business.

But what I''m wondering is...why wouldn''t he have offered this opportunity to FI? The manuscript read at the big-name agency isn''t a shoe-in by any means, and FI could use this sort of opportunity as well as I could.

I haven''t mentioned this to FI yet (he wasn''t in the room at the time). Should I take this networking opportunity guilt-free or what? And I cringe to think that FI might be hurt that his brother didn''t offer to him first.