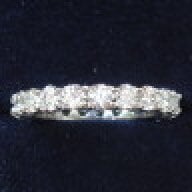 Joined

May 4, 2008
Messages

884
Ok................its 99 days til my wedding! OH-------------MY----------------GOD!
I can''t believe it. that is going to fly by!~ yikes and yay and ahhhhhhhhhhh!
crazy crazy - ok left to do:
1) order gift for FI parents
2) meet with DJ and pick songs
3) bring cake lady ribbon for our cake
4) order favors (i guess we can''t do that until we have the RSVP''s in) = ??? HELP ON THAT ONE?
5) go back to seamstress with shoes so she can begin her magic
6) go tanning! i know i know
7) get shoes for my awesome BCBG rehersal dinner dress!! wooot wooot, gold we said?
pick up FI''s gift from jeweler
ughhhhhhhhhhhhhhhhhhhhhh I CAN"T BELIEVE IT SOOOOOOOOOOOOOOOOOOOOO CLOSE>
how are you all doing?