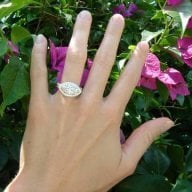 Joined

Jul 11, 2005
Messages

2,022
Hi everyone, I have a friend who is soon to be engaged and she has discussed a concern regarding her soon-to-be engagement ring. I thought I would ask the diamond lovers here their opinions. I am torn as to what kind of advice to offer her.
Her fiance-to-be is quite well to do and he himself wears a good deal of jewelry. Gold Rolex, gold bracelet, pinkie ring, etc. His pride and joy is a 5.5 carat ring that he has set in a 18k gold bezel setting and worn for about 10-15 years. I have seen this ring and it is quite the showstopper. It has a lot of sparkle and is quite showy, especially because of the size. The diamond was purchased for investment reasons and I believe it is a D VVS or IF diamond. As I said, it does sparkle quite a bit but I know nothing about the cut. He would like for her to have the ring as her E-ring (they would pick out a new setting together). I know the sentiment means a lot to her because of the size of the ring and the fact that he cherishes it very much and now wants to give it to her. I genuinely don't think he offered it to her as a way to save money or anything like that. He just wants her to have something that he has always loved.
She is torn because she knows more than a little about diamonds and would really would like the cream of the crop in terms of cut. In discussing rings with her, I know she'd sacrifice color/clarity but never cut. And having that knock-out sparkle that you only get with the finest cuts is her #1 priority. Cut on his diamond is not known to her but it does sparkly nicely, maybe just not
ACA
sparkly but perhaps still VG or Excellent in terms of cut. She knows that he would purchase something else for her but she has expressed feelings of guilt to me. Size is not her priority but who says no to a 5+ carat ring, especially on the grounds that the cut my not be 'ideal enough'? And when it comes with such love behind it? However, I understand her feelings because if I had gone with a round, nothing but AGS ideal would have done it for me. And she will be wearing it every day and has to be happy/love it. But marriage isn't about the ring and what he is offering has much more meaning than something they could purchase new. She is torn and I wanted to post to get some perspectives from fellow diamond lovers. Thoughts?